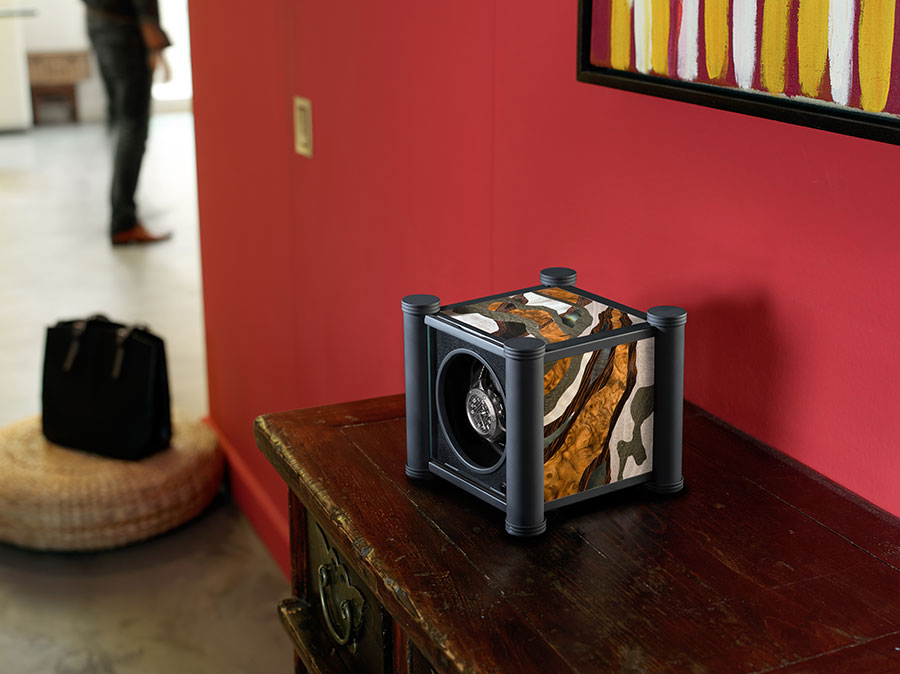 20 Jul

Which watch winder to choose for your automatic watch?
Which watch winder to choose for your automatic watch?
Faced with a large choice of watch winders now available on the market, the collector may have some difficulty in choosing the watch winder best suited to his use and taste in automatic watches. Versatile, the rotating case for automatic watches must meet several different criteria to fulfil the expectations of collectors of exceptional chronographs. Technical criteria, adaptability, robustness, design: discover the criteria for choosing a watch winder.
Technical criteria: the essential points
Direction of rotation and TPD (Turns Per Day)
First of all, a rotating case must make it possible to maintain the power reserve of all collectible watches, whatever the calibre of which they are equipped. This implies that the winding motor is capable of clockwise, anti-clockwise and bidirectional revolutions. This also implies the possibility of setting the number of TPDs with precision, that is to say the number of revolutions per day, each movement requesting a precise number of TPDs.
Periods of latency
A watch winder's function is to maintain the power reserve of automatic watches, and not to prematurely exhaust the mechanism. Manufacturers recommend to maintain regular periods of latency in the revolution cycles. These periods of latency simulate the natural period of rest of watches when worn: sports, night time, etc.
More precisely, the watch winder must make the revolutions until the timepiece has been completely rewound and then stop the revolutions for a few hours, leaving the chronograph on its power reserve before resuming the revolutions, and so on.
Size of the strap
For the purpose of user comfort and optimal timekeeping in the revolution cycles, a quality watch winder must offer flexible watch holders and, in particular, be available in a variety of sizes to adapt easily to all watch strap sizes.
Practicality, autonomy, robustness: a question of safety and comfort
More than a technical accessory, a watch winder is also a versatile storage case for your collectible watches. So, ideally, it must meet three essential criteria: practicality, autonomy and robustness.
Practicality
Its shape should make it possible to store it efficiently on a shelf or, when travelling, in a safe. Access to the watches must be simple and fast without requiring complex handling. In addition, it must remain silent so as not to disturb your peace and serenity, especially if it is placed near a bedroom for example. In this same logic, it is preferable that the selected watch winder does not disturb your sleep with a light diode which would remain on all night.
Autonomy
It must guarantee optimal operation for several months or even years. The best winding systems offer, on battery, around 1 to 2 years of autonomy and also have an electrical outlet. You must be able to travel with confidence and not fearing that your timepieces will stop…
Robustness
A quality watch winder must also guarantee the safety of the timepieces entrusted in it. Its strength must therefore be proven, especially if you use it as a travel case for your automatic watches.
Elegance and refinement: because a watch winder is also a jewellery case
Finally, after choosing a watch winder for automatic watches, it also means choosing a jewellery case for exceptional creations. This jewellery case must therefore reflect the refinement and richness of the chronographs of which it has been entrusted. It can therefore be exhibited in the same way as a crafted piece of art while fulfilling its role of guarantor of time.
Noble materials, both for the mechanisms and the outer casing, elegant and unique design, artisanal creation respecting the most demanding watchmaking traditions: a watch winder for luxury watches is also an element of distinction.